Satisfaction is not enough - we want your enthusiasm!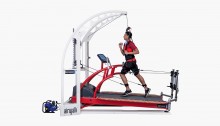 Since its establishment in 1988 in Southern Germany, h/p/cosmos® has had a lot of influence in sports, athletics, ergometry, rehabilitation and science through the development and distribution of new products, software, system solutions and application methodologies. During this time the Traunstein based company has developed into THE German specialists in manufacturing treadmill ergometers and systems for fi tness,sports, sports science, sports medicine, athletics, biomechanics, medicine, rehabilitation, therapy, ergometry, performance diagnostics and scientifi c research. Many developments and pioneering work from h/p/cosmos® have infl uenced not only product design and functionality but also their usage and methodologies.
Wireless heart rate measurement within the treadmill with load dependent speed and elevation, maintenance free and powerful drive systems with 3 phase motors and reverse belt rotation for downhill training, the patented arm supports with additional keyboard and the robowalk® expander are just some examples of the pioneering achievements of h/p/cosmos®. A milestone for intelligent solutions was set by h/p/cosmos® in August 1992.
With the "h/p/cosmos® coscom®" protocol the stage was set and now many other manufacturers currently use this standard. Since then all h/p/cosmos® running machines and OEM treadmills from h/p/cosmos® can communicate with other equipment such as ECGs, VO2max ergospirometry CPET equipment, stress test systems, metabolic carts, motion analysis software, lactate diagnostic programs and PCs. The coscom® v3 protocol and the coscom.dll together with an impressive list of coscom compatible manufacturers and equipment are available for free download from: www.coscom.org
Innovation, technology, security and support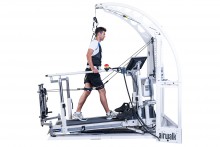 One key to the success of h/p/cosmos is specialization. By focusing on different fields of application for running machines, h/p/cosmos is setting up standards for innovation, technology, safety and support. As specialists for running machines we are able to react to our clients wishes fast and flexible. Innovative concepts can be implemented and realized as intelligent solutions in very short time. Individual designed running machines with over-length, over-width or high-speed levels are on duty worldwide. With special solutions for wheelchair patients, skiers and cyclists we can fall back on years of experience.
Highest security standards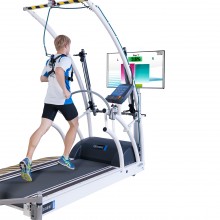 It is out of question that to be able to build unique running machines, keeping top safety and technology up is a matter of fact. Our own internal EN13485 certified management system starts already with the supervision of the development of any new device. The meticulous documentation of all manufacturing phases of each running machine and other h/p/cosmos devices goes up to the service at the customers place.
Close cooperation with specialists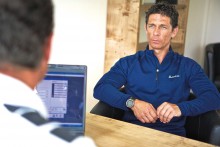 The close cooperation of our specialists from different departments, such as research and development, production, sales & services, guarantees the precision and perfection, which we made our main objective. The constant exchange of information with our customers forms the basis to achieve and keep our high objective. h/p/cosmos is certified since 1998 according to ISO 9001, followed by the EN 13485 certification.
Environmental Policy
Our planet's resources are precious and limited. Having this in mind, we fulfil and surpass current legal regulations, starting with our ecologic product design (durability, repair- and recycling-friendly design of products), to the use of innovative and efficient processes as well as the full drawing of energy-saving potentials. An intensive recycling alongside the full supply chain, the substitution of pollutant substances and process materials as well as the participation in EAR (old electrical equipment) are part of our daily practice and our environmental policy.
We are also enforcing environmental friendly processes in other segments than product design and production. Years ago, the transition of our sales car-pool to hybrid-drive cars (currently 3 hybrid-drive cars) has been started and a 100% electric car has been acquired for short and mid-range distances. A voluntary guideline "voluntarily 120 km/h" has been agreed for the full team to maximize driving economy and therefore to reduce the CO2 emissions when traveling. In addition, the roof of the sales building at the headquarter in Nussdorf-Traunstein has been equipped with a 30 kW photovoltaik system in 2020 to create a general benefit from the existing roof area.
Anti-Corruption Policy
Corruption is a blight that affects the future of all nations and the people of the forthcoming generations. Corruption typically means money or expensive gifts are given to people who are in "key positions" and who are usually paid higher salaries already than other people and "normal workers".
At the end of the day, in most cases, this money has to be paid by the government and so by all people. In many cases the government then has less money particularly for the poor, for education, for social and health projects.
So corruption often ends up with even more money for the privileged people in key positions and at the same time resulting in less money for poor and ordinary people of the same country.
We should ask people who ask for "under table money":
- What have you done for your country?
- What have you done what you can be proud of?
- How will you teach your children and the next generations to behave responsibly for a safe and prosperous future?
h/p/cosmos has a very clear policy of NOT supporting any kind of corruption.
Please make sure that nobody involved offers and/or takes "under table money" or similar gifts with values of more than that allowed by the government. For example in Germany the government allows gifts to a value of 35 EUROs per person per year for some small courtesy gifts such as flowers or pens or small giveaways.
Some related links:
http://www.justice.gov.uk/publications/bribery-bill.htm
Extract of solicitor comments to UK Bribery Act 2010:
The main provisions are:
• It is an offence to offer, promise or give a bribe
• It is an offence to request, agree to receive or accept a bribe from another person
• It is an offence to bribe a foreign public official
• Any commercial organisation failing to prevent bribery being committed in connection with its business is guilty of a corporate offence, punishable by an unlimited fine.
The last point arguably introduces the most contentious part of the proposed legislation. The failure to prevent bribery extends to individuals acting on behalf of an organisation. This can mean not only employees but also the staff of foreign partners and 'associated' persons - a term which is loosely defined. Therefore, an organisation that does not have clear policies and procedures to prevent bribery may suddenly find itself facing a corporate prosecution in the UK
courts.
...
In short, businesses must:
• Demonstrate that they have assessed and understood the risks to their business given the location and nature of their activities
• Put in place, and monitor, clear anti-bribery policies and procedures for staff and associated persons to follow
• Put in place stringent financial controls and record keeping to minimise the risk of bribery
• Put in place whistle blowing procedures so that staff can report bribery and corruption confidentially and without prejudice.